Jack Blog
October 5th, 2010 By Jack Morton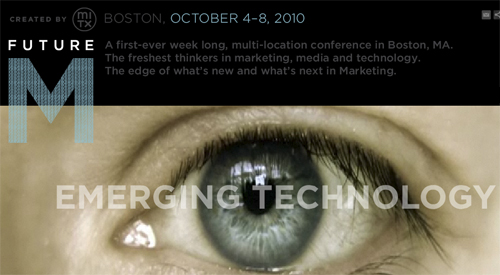 «For specific, live coverage of FutureM events, follow Thomas Trumble (@TPapi) and me (@StevenDuque) on Twitter. Look for hashtags #FutureM & #Jack. »
MITX's inaugural FutureM (the Future of Marketing) week is in full swing, and both organizers and attendees are singing the same tune: the nature of brand experiences is changing dramatically.
The presentations, panels and discussions occurring throughout Boston over the course of the week underscore the necessity of a paradigm shift in the thinking surrounding marketing and its future. How people receive, consume and interact with content is markedly different from the conditions of yesteryear. New technologies have provided fertile ground for ever-diversifying platforms that marketers can now use to engage their brands' audiences.
So what next? In an industry with strong residual muscle memory and populated by equally strong personalities, the answer is perhaps less welcome than those who have developed the disruptive innovations: learn and adapt.
In that spirit, below are a few general but important themes that I've inferred from my attendance at FutureM events thus far.
Broad themes:
The canvas and brushes have changed, and creativity needs to catch up. For example, one event highlighted how poorly designed many of the current content-centered applications for iPad are — if not for lack of functionality, then for lack of consideration of user experience. For many of the examples, navigating through content was less than intuitive, points of interaction weren't obvious, and interactivity (while expected) was minimal. Broadening a palette and getting better brushes isn't enough for an artist to be brilliant; s/he has to know how to use them well. The same is true for marketers.
Consumers want to be talked to, not talked at. From the many event topics focused on social media, mobile & tablet marketing, geo-local targeting and ad networks, one fact became abundantly clear: engaging would-be customers with relevant messaging is a must. A one-way, mass-targeted message isn't going to win brand advocates. But conversations, interactions and creative messages delivered at the right time and place (and through the right channels) will stand a much better chance against contemporary consumer cynicism.

There is no silver bullet for marketers to target their audience. For many marketers, the plethora of emerging media is less of a boon and more of a hassle. The media and, hence, methods we use to target audiences — both broadly and within specific categories — is more fragmented now than ever. Big players like Apple, Google and Microsoft are doing their best to throw their weight behind the creation of industry standards, but a host of small and daring companies isn't ready to give up just yet. Picking the winning horse isn't obvious, as reach and relevance also largely hinges on audience adoption (Foursquare or SCVNGR?).
That in mind, marketers are left with two areas where they must learn, adapt and grow:
Strategy. The landscape is not only fragmented; it's also in flux. How marketers navigate these waters and formulate their plans of attack will define whether they can remain relevant by unearthing and capitalizing on emerging media. And keeping track of trends in emerging media, audience behavioral patterns and sticky ideas is critical to making good strategic decisions in this space.
Creativity: At the end of the day content is still king and perhaps even more important in a world where consumers are constantly inundated by buzz in a million different forms. Creatives will pioneer how emerging technologies are best utilized, but their thoughts and designs must follow the forms and functions of the emerging technologies, if they wish to be effective. 
That's it for now! Stay tuned for more FutureM coverage & insights throughout the week.
«For specific, live coverage of FutureM events, follow Thomas Trumble (@TPapi) and me (@StevenDuque) on Twitter. Look for hashtags #FutureM & #Jack. »